The Catalyst is Ozone's latest creation, designed for riders looking for an incredibly versatile and easy kite to ride for both free ride and waves. Drawn from all the excellent attributes of the Light XC, the Catalyst has been refined into an amazing kite for entry level through to advanced riders. The Catalyst has been developed along with the new Contact control system, which has an increased de-power throw range and a simplified trimming area into modular replaceable components.
It's as easy as 1, 2, 3:

1. Rock solid stability with mega de-power: The Catalyst is a very stable kite in all sizes, with increased de-power
abilities compared to the Light XC.
2. Proven Safety System and Super easy re-launch: Our front line flag out and below the bar safety system
is time proven successful. This system enables total de-power of the kite, simple reassembly of the safety system,
and an easy "pull on the bar" re-launch.
3. Smooth flying with Predictable Handling: Throughout the entire wind window the Catalyst flies smooth
and stable, offering controllable power delivery with great handling characteristics.

The Catalyst is set to accelerate your kiting abilities, whether you are an entry level rider through to the seasoned wave or free rider.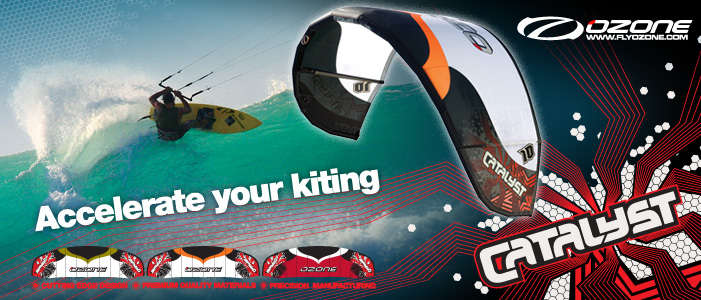 This awesome new kite is already available at SURFSTORE AFRICA!

  
To get more latest news about Ozone kites klick here: Ozone Kites Newsletter Sign Up Form